Description
The wooded headboard takes a weathered appearance contrasting to the black
slatted frame, creating a sleek but warm tone to your space. Add some
soft textiles on the bed that will perfectly balance the coolness of
metal. The frame is crafted with premium iron and high-quality MDF
boards for solid support and long term durability. The metal frame has
been well painted for scratch-resistance and water-resistance and the
CARB P2-compliant MDF board is healthy for home use and commercial use.
2 optional sizes: Full and Queen.
Industrial/Rustic style: The combination of wooden panels and metal slats takes a strong industrial/rustic flair that is suitable for industrial, rustic, transitional and farmhouse decor homes. The wood grain pattern adds a natural accent and balances the coolness of metal.
Sturdy foundation: This metal bed frame is made of premium iron slats and high-quality MDF boards for solidly supporting your mattress. Constructed of 13 horizontal slats and 3 vertical slats, and supported by 9 metal legs, this base is capable of holding up to 240kg/529.1lb. Besides, not shaky after proper assembly.
Green: The headboard and footboard are made of CARB P2-compliant MDF boards, bringing you no worries about the formaldehyde emissions at all. Carefully manufactured with round headboard edges, this platform will prevent you from scratching when passing by.
Make cleaning a breeze: Built to last, this metal bed features the fully painted metal frame for medium water- and scratch-resistance. In addition, the slatted structure makes the dust difficult to accumulate. Once dusty, wipe clean with damp cloth and avoid using harsh chemicals.
Extra Storage Space: Our metal bed base is built with 30.5cm/12" clearance for storing stuff and easy cleaning. No worries about limited storage space in the bedroom anymore.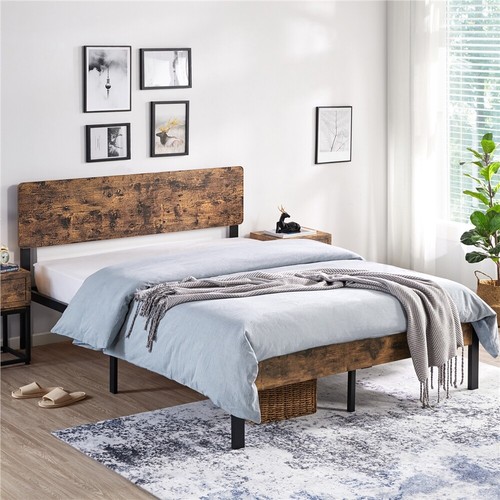 Rustic Styled HeadboardRustic and retro styled headboard adds modern flavor to your bedroom.
Sturdy Metal Frame
Sturdy metal frame with outstanding weight-bearing capacity for great stability and durability.
Powder Coating Surface
The metal surface with powder coating features rust and scratch resistance, durable for long term use.
Solid Support Legs
9 support legs provide stability and level support, noise-free & no shake.
Protective Foot PadsAnti-slip foot pads reduce scratches and slides.
Under-bed Storage
12 inches of clearance space under the bed, spacious to meet your storage needs.
Specifications of Queen Size:
Material: Iron, MDF, Melamine Veneer, Plastic
Overall dimensions:64.6×82.5×38" (WxLxH) or 64.6×82.5×39.2" (WxLxH)
Maximum weight capacity: 529.1lb
Ground clearance: 12"
N. W.: 68.1lb
G. W.: 78.7lb
Color: Black+Brown
Specifications of Full Size:
Material: Iron, MDF, Melamine Veneer, Plastic
Overall dimensions:58.7×77.5×38" (WxLxH) or 58.7×77.5×39.2" (WxLxH)
Maximum weight capacity: 529.1lb
Ground clearance: 12"
N. W.: 61.9lb
G. W.: 70.8lb
Color: Black+Brown